The award-winning author of Founding Brothers and The Quartet now gives us a deeply insightful examination of the relevance of the views of George Washington, Thomas Jefferson, James Madison, and John Adams to some of the most divisive issues in Amer...
An illuminating study of the intertwined lives of the founders of the American republic--John Adams, Aaron Burr, Benjamin Franklin, Alexander Hamilton, Thomas Jefferson, James Madison, and George Washington.During the 1790s, which Ellis calls the mos...
From Pulitzer Prize–winning American historian Joseph J. Ellis, the unexpected story of why the thirteen colonies, having just fought off the imposition of a distant centralized governing power, would decide to subordinate themselves anew. We a...
A distinctive portrait of the crescendo moment in American history from the Pulitzer-winning American historian, Joseph Ellis. The summer months of 1776 witnessed the most consequential events in the story of our country's founding. While the t...
The Pulitzer Prize–winning, best-selling author of Founding Brothers and His Excellency brings America's preeminent first couple to life in a moving and illuminating narrative that sweeps through the American Revolution and the republic...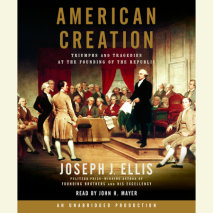 From the first shots fired at Lexington to the signing of the Declaration of Independence to the negotiations for the Louisiana Purchase, Joseph J. Ellis guides us through the decisive issues of the nation's founding, and illuminates the emergi...