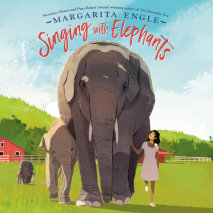 A powerful novel in verse from Newbery and Pura Belpré Award-winning author Margarita Engle about the friendship between a young girl and the poet Gabriela Mistral that leads to healing and hope for both of them.Cuban-born eleven-year-old Orio...
Together we belongedalong with countless othershuman beasts of burdento the proud Marquesa . . . Juan Francisco Manzano has never known any other life. Born into the household of a wealthy slaveowner in Cuba in 1797, he spent his early years by the s...
How can there bea little war?Are some deathssmaller than others,leaving motherswho weepa little less?Cuba has fought three wars for independence, and still she is not free. Her people have been rounded up in reconcentration camps, where there is alwa...
Last year, in Berlinon the Night of Crystalmy grandfather was killedwhile I held his hand.Daniel has escaped Nazi Germany with nothing but a desperate dream that he might one day find his parents again. But that golden land called New York has turned...