THE FIRST NOVEL IN THE #1 NEW YORK TIMES BESTSELLING OTHERWORLD SERIES. "Frisky...Tells a rather sweet love story, and suggests that being a wolf may be more comfortable for a strong, smart woman than being human."—The New York Time...
The #1 New York Times bestselling author of the Otherworld series delivers her most suspenseful novel yet, where the discovery of Cainsville's dark past and the true nature of its inhabitants leads to murder, redemption, love, and unspeakable l...
As #1 New York Times bestselling author Kelley Armstrong's new Cainsville series continues, Olivia's power to read omens leads to the discovery of a gruesome crime with troubling connections to her new hometown.Omens, the first installmen...
#1 New York Times bestselling author Kelley Armstrong begins her new series with Omens, featuring a compelling new heroine thrust into a decades-old murder case and the dark mysteries surrounding her strange new home. Twenty-four-year-old Olivia Tay...
The #1 New York Times bestselling author Kelley Armstrong delivers the novel her fans have been clamoring for: The epic finale of the Otherworld series. It's been more than ten years, a dozen installments, and hundreds of thousands of copies si...
At last, in the novel every Kelley Armstrong fan will need to own, all the major heroines and heroes of Otherworld are united.It's been ten years since Bitten, the first novel in Kelley Armstrong's New York Times bestselling Otherworld series. In tha...
One of the most popular writers of paranormal fiction and the #1 New York Times bestselling author returns with a rollicking new novel in her Otherworld series.At twenty-one, Savannah Levine-orphaned daughter of a notorious dark witch and an equally ...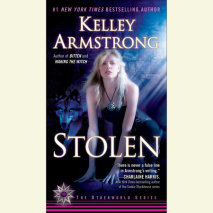 "Armstong is up there with the big girls of the genre like Laurell K. Hamilton..."--Kansas City StarIt was in Bitten, Kelley Armstrong's debut novel, that thirty-year-old Elena Michaels came to terms with her feral appetites and claimed the proud ide...