Eleven-year-old Sport Rocque is living a happy life, keeping his father?s absentmindedness under control, and managing the family budget. When Kate, Sport?s new?and nice?stepmother enters the picture, things couldn?t be better. Then comes the new...
Harriet the Spy refuses to become ruffled when an unidentified person starts leaving disturbing notes all over the quiet little beach town of Water Mill. She's determined to discover the author of the notes. And she drags her friend, mousy Be...
Features an exclusive bonus interview with the Apple TV+ animated series stars, Golden Globe nominee Beanie Feldstein (the voice of Harriet) and Emmy Award winner Jane Lynch (the voice of Ole Golly).Harriet M. Welsch is a spy. In her notebook, she wr...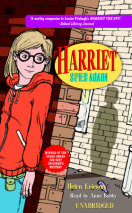 Harriet M. Welsch has just received the best news of her eleventh year—Ole Golly is coming back! Harriet can still remember how sad she was when her beloved nanny married George Waldenstein and moved away. But the circumstances of Ole Golly&r...