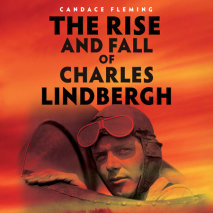 From a true master of YA nonfiction, author of the acclaimed THE FAMILY ROMANOV, discover the dark side of Charles Lindbergh in a riveting biography of one of America's most celebrated heroes, and most complicated, troubled men. First human to cross ...
In this hilarious follow-up to BEN FRANKLIN'S IN MY BATHROOM!, history and hijinks collide once more when Eleanor Roosevelt accidentally time travels to a ten-year-old's home in 21st-century America!When Eleanor Roosevelt time travels to Nolan and Ol...
Perfect for anyone fascinated by the Royal Wedding, Netflix's The Crown, or Wolf Hall, this is a pitch-perfect reimagining of the romance and tragedy of Henry VIII and his six wives, told from multiple points of view by some of your favorite authors....
History meets hijinks in this first title in a hilarious new middle grade series for fans of Timmy Failure and The Terrible Two, when Ben Franklin accidentally time travels to a 10-year-old's home in 21st century America!   Nolan is a typical ki...
"[A] superb history.... In these thrilling, highly readable pages, we meet Rasputin, the shaggy, lecherous mystic...; we visit the gilded ballrooms of the doomed aristocracy; and we pause in the sickroom of little Alexei, the hemophiliac heir w...
"Positively tailor-made for reading—or reading aloud—by flashlight," declares Kirkus Reviews in a starred review. The phenomenally versatile, award-winning author Candace Fleming gives teen and older tween readers ten ghost stories sure t...