The last known human searches the galaxy for companionship in a brilliant standalone novel from the legendary author of the Pip & Flinx series."A provocative read."—The Washington Post Once Homo sapiens reigned supreme, spreadin...
Unlikely duo Pip and Flinx return to right another wrong in this all-new sci-fi adventure from one of the genre's living legends. Fans of fun, fast-paced, imaginative science fiction adventure, rejoice! #1 New York Times bestselling author Alan...
#1 NEW YORK TIMES BESTSELLER • The official novelization of Star Wars: The Force Awakens, the blockbuster film directed by J. J. Abrams.   More than thirty years ago, Star Wars burst onto the big screen and became a cultural phenomenon...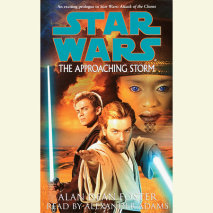 In the years since the events of Star Wars: The Phantom Menace, the Republic has continued to crumble, and more and more, the Jedi are needed to help the galactic government maintain order. As Star Wars: Episode II opens, Obi-Wan Kenobi and Anakin Sk...