From beloved historian Antonia Fraser comes the dramatic story of how Catholics in the United Kingdom won back their rights after two centuries of official discrimination.

In the summer of 1780, mob violence swept through London. Nearly one thousand people were killed, looting was widespread, and torch-bearing protestors marched on the Prime Minister's residence at 10 Downing Street.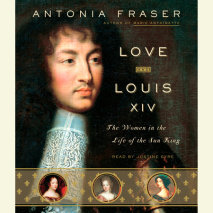 The superb historian and biographer Antonia Fraser, author of Marie Antoinette, casts new light on the splendor and the scandals of the reign of Louis XIV in this dramatic, illuminating look at the women in his life.

The self-proclaimed Sun King, Louis XIV ruled over the most glorious and extravagant court in seventeenth-century Europe.
The national bestseller from the acclaimed author of The Wives of Henry VIII. France's beleaguered queen, Marie Antoinette, wrongly accused of uttering the infamous "Let them eat cake," was the subject of ridicule and curiosity even before her death; she has since been the object of debate and speculation and the fascination so often accorded tragic figures in history.