The extraordinary author of Cold Mountain and Thirteen Moons returns with a dazzling new novel of suspense and love set in small-town North Carolina in the early 1960s.

Charles Frazier puts his remarkable gifts in the service of a lean, taut narrative while losing none of the transcendent prose, virtuosic storytelling, and insight into human nature that have made him one of the most beloved and celebrated authors in the world.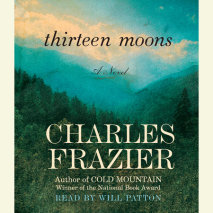 This magnificent novel by one of America's finest writers is the epic of one man's remarkable journey, set in nineteenth-century America against the background of a vanishing people and a rich way of life.

At the age of twelve, under the Wind moon, Will is given a horse, a key, and a map, and sent alone into the Indian Nation to run a trading post as a bound boy.
NOW A MAJOR MOTION PICTURE

One of the most acclaimed novels in recent memory, Charles Frazier's Cold Mountain is a masterpiece that is at once an enthralling adventure, a stirring love story, and a luminous evocation of a vanished American in all its savagery, solitude, and splendor.