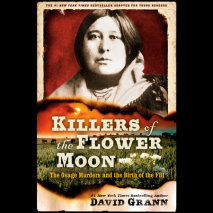 The New York Times bestseller and National Book Award finalist Killers of the Flower Moon is now adapted for young readers.This essential book introduces young readers to the Reign of Terror against the Osage people--one of history's m...
NEW YORK TIMES BESTSELLER   -  NATIONAL BOOK AWARD FINALIST "Disturbing and riveting...It will sear your soul." —Dave Eggers, New York Times Book ReviewSHELF AWARENESS'S BEST BOOK OF 2017Named a best book of the year by ...
By the #1 New York Times bestselling author of Killers of the Flower Moon, a powerful true story of adventure and obsession in the AntarcticHenry Worsley was a devoted husband and father and a decorated British special forces officer who believed in ...
Now a major motion picture starring Robert Redford and Sissy Spacek, The Old Man and the Gun is here joined by two other riveting true-crime tales."The Old Man and the Gun" is the incredible story of a bank robber and prison escape artist who modeled...
Acclaimed New Yorker writer and author of the breakout debut bestseller The Lost City of Z, David Grann offers a collection of spellbinding narrative journalism. Whether he's reporting on the infiltration of the murderous Aryan Brotherhood into...
A grand mystery reaching back centuries. A sensational disappearance that made headlines around the world. A quest for truth that leads to death, madness or disappearance for those who seek to solve it. The Lost City of Z is a blockbuster adventure n...