From the #1 New York Times bestselling coauthor of No Easy Day comes a thrilling World War II story of the American airborne soldiers who captured a Japanese-held island fortress"Rock Force is a beautifully told story of war: the friendshi...
THE NEW YORK TIMES BESTSELLERThe explosive memoir of a Muslim American FBI agent fighting terror from the inside.It's no secret that federal agencies are waging a broad, global war against terror. But for the first time in this memoir, an activ...
The first-ever inside look at the US military's secretive Remotely Piloted Aircraft program—equal parts techno-thriller, historical account, and war memoirRemotely piloted aircraft (RPA), commonly referred to by the media as drones, are a...
The companion volume to the multimillion-copy bestseller No Easy Day by former Navy SEAL Mark Owen reveals the evolution of a SEAL Team Six operator. Mark Owen's instant #1 New York Times bestseller, No Easy Day: The Firsthand Account of t...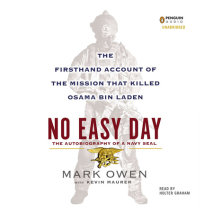 The #1 New York Times bestselling first-person account of the planning and execution of the Bin Laden raid from a Navy SEAL who confronted the terrorist mastermind and witnessed his final moments. From the streets of Iraq to the rescue of Captain Ric...