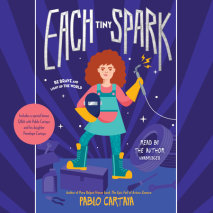 From award-winning author Pablo Cartaya comes a deeply moving middle grade novel about a daughter and father finding their way back to each other in the face of their changing family and community.

Emilia Torres has a wandering mind. It's hard for her to follow along at school, and sometimes she forgets to do what her mom or abuela asks.
One boy's search for his father leads him to Puerto Rico in this moving middle grade novel, for fans of Ghost and See You in the Cosmos.

Marcus Vega is six feet tall, 180 pounds, and the owner of a premature mustache. When you look like this and you're only in the eighth grade, you're both a threat and a target.
A 2018 Pura Belpré Author Honor Book

Save the restaurant. Save the town. Get the girl. Make Abuela proud. Can thirteen-year-old Arturo Zamora do it all or is he in for a BIG, EPIC FAIL.

For Arturo, summertime in Miami means playing basketball until dark, sipping mango smoothies, and keeping cool under banyan trees.