The lost literary origin story of #1 bestseller Lev Grossman - including a new foreword about how and why he wrote his first novel: "It is the intense, concentrated, boiled-down essence of the unhappiest years of my life."Twenty-something H...
The stunning conclusion to the #1 New York Times bestselling Magicians trilogy, now an original series on Syfy.   #1 New York Times Bestseller   A New York Times Notable Book of the Year   ONE OF THE YEAR'S BEST BOOKS T...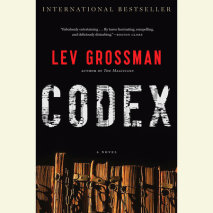 About to depart on his first vacation in years, Edward Wozny, a hotshot young investment banker, is sent to help one of his firm's most important and mysterious clients. His task is to search their library stacks for a precious medieval codex, a trea...
Return to Fillory in the riveting sequel to the New York Times bestseller and literary phenomenon, The Magicians, now an original series on Syfy, from the author of the #1 bestselling The Magician's Land. Quentin Coldwater should be h...
The New York Times bestselling novel about a young man practicing magic in the real world, now an original series on SYFY"The Magicians is to Harry Potter as a shot of Irish whiskey is to a glass of weak tea. . . . Hogwarts was never like ...