6 Audiobooks to Share with Kids During Hispanic Heritage Month
September 28, 2018
It's important for kids of all ages to see diversity in literature that reflects the world around them. Additionally, it's important to discover stories that explore cultural heritages similar and different from their own. That's why these audiobooks are perfect listens for you and your children during Hispanic Heritage Month.
From picture books to chapter books, everyone will enjoy these delightful stories:
Short and sweet audiobooks your littlest listeners will love: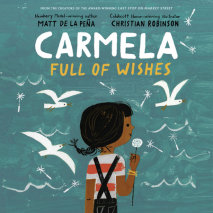 When Carmela wakes up on her birthday, her wish has already come true–she's finally old enough to join her big brother as he does the family errands. When they arrive at the Laundromat, Carmela finds a lone dandelion growing in the pavement. What will she wish for?
Listen to an excerpt Carmlea Full of Wishes

These audiobooks are perfect for middle grade kids–and their families!