9 Audiobooks to Honor Veterans
November 10, 2017
In these nine audiobooks, we experience the stories of the many soldiers who have fought for our country throughout history, and we are reminded of the human sacrifice, struggles, dedication, and triumph that are part of war.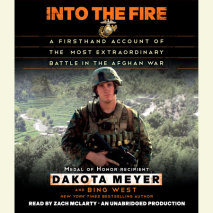 Ordered to remain behind with the vehicles, twenty-one-year-old Marine corporal Dakota Meyer disobeyed orders and attacked in order to rescue his comrades at the chaotic battle of Ganjigal, Afghanistan. For the first time, Meyer tells the full story.
Listen to an excerpt Into the Fire
For more audiobooks about incredible stories of valor, see our Veterans Collection.