Author Allison Varnes: Audiobooks Make Reading Fun
September 21, 2018
During my eight years as a special education teacher, I frequently worked with high school students who struggled to be independent readers, due to disabilities and weak decoding and fluency skills. For them, reading meant devoting their energy to decoding the text, leaving no room for expressive reading.
This was devastating for me as a reader and as a teacher. When I read, I hear characters' voices with their accents and speech patterns, and the story becomes a living thing in my imagination. My students' reading voices were stilted and monotone, and they told me that they did not hear anything different when they read to themselves.
English was not fun for them. Imagine having to read a dense training manual or complicated furniture instructions, all the while trying to process the meaning, and then being required to engage in discussions about it. It's horrible, isn't it? Now imagine you have to do that all day long for twelve years.
My students complained that they hated books. They hated reading. But they all loved stories.
So I hooked them with read-alouds. I used voices. Funny voices. Booming voices. I had a ball. I'm not even the least bit sorry about my attempts at a British accent. By golly, it was fun. They had fun, too.
We did reader's theater with novels and short stories. When my students felt brave enough and volunteered, they tried reading with expression, too.
But there was still another resource to tap for modeling fluency and expression to help students develop their reading voices.
One day around Halloween during a torrential downpour, another teacher and I covered Edgar Allan Poe's "The Tell-Tale Heart." We turned out all the lights, and then we fired up the audio recording by Iggy Pop. This is a work I had read silently to myself multiple times during my own education, but as I listened to it in the dark, I got goose bumps. During a particularly suspenseful moment, thunder boomed. At that moment amid gasps from the students, Poe's story became more than words on a page. It was an experience.
I'm delighted to say that our class was captivated. They loved it. It was a huge victory in our quest to make stories both accessible and fun for students who might otherwise be excluded due to poor decoding and fluency skills.
That was the moment I realized that audiobooks presented another opportunity to engage students through expressive reading. The more they heard and the more engaged they were, the greater the chance that reading would be fun. Every single reader deserves that chance. So I added audiobooks to my classroom tools, to bring stories to life for students.
I hope they're making their own story magic now, whether they're reading books or listening to them. And maybe, just maybe, they're using their reading voices to capture the imaginations of their own children when they read to them at night. That's the part of the story that I don't get to hear. But I can picture it, and it's the grandest story I've ever imagined.
---
Learn about Allison Varnes's audiobook, Property of the Rebel Librarian: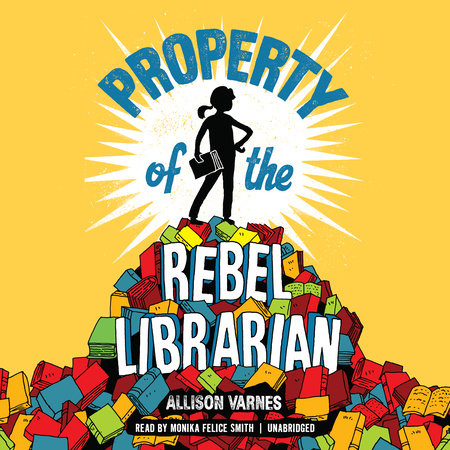 When twelve-year-old June Harper's parents discover what they deem an inappropriate library book, they take strict parenting to a whole new level. But June can't give up books…so she secretly starts a banned book library of her own in an abandoned locker at school.
Listen to an excerpt PROPERTY OF THE REBEL LIBRARIAN