From Behind the Mic to a Walk in Central Park
August 23, 2018
Saving Central Park's author, narrator, producer, and director took a delightful walk through Central Park. Luckily, we can travel along with them as narrator Erin Bennett shares the special experience with us.
---
It's not every day that my audiobook narrating takes me far from a Los Angeles recording studio. I tend to spend a lot of time in an indoor space with my text, a cup of tea, my director or engineer, and a microphone. But this spring my narrating adventures took me all the way from Los Angeles to New York City's Central Park, to meet Elizabeth Barlow Rogers, author of Saving Central Park: A History and a Memoir. Elizabeth (instantly "Betsy") met me and Nick Martorelli, our producer at Penguin Random House, and Harry Nangle, our director, in the lobby of her elegant Central Park West apartment building. Having interpreted our activity, a "walk in Central Park," to mean "an easy stroll with a respected lady of a certain age," my colleagues and I had dressed business casual and were a bit surprised when met by Betsy, in running shoes, hair in a ponytail, wearing high-tech workout gear as if we were heading to SoulCycle. She took off down the street, and we did our best to keep up.
Entering the park at the 72nd Street, Betsy, who founded the Central Park Conservancy and probably knows more about Central Park than any other person, pointed out important views and striking details of the landscape. Did we notice the dramatic outcroppings of Manhattan schist? Did we see the harmony of the design by Olmsted and Vaux? We did indeed. We wended our way through the Ramble, past the Boathouse, the Bandshell, the Bow Bridge, Bethesda Terrace. Everywhere we went, Betsy was recognized by park volunteers, strollers, joggers, amblers, relaxers, bird watchers—all greeted us, and many shook Betsy's hand and thanked her for her advocacy.
On our tour, we found ourselves lost in the Ramble (just as the original designers had planned, as Betsy delightedly informed us), finding unexpected pathways leading to new vistas. We saw birds nesting and observed Conservancy workers setting out new plants. We scented dogwood and crab-apple trees in the spring air and heard the rush of running water, all in the middle of a city of eight and a half million people. I was absorbed by Betsy's voice—born in San Antonio, she has a marvelous straightforward wit and snap to her words, softened by the elegance of a Wellesley education: Texas twang by way of finishing school. I pictured her holding her own in formidable negotiations with New York City parks commissioners Gordon Davis and Henry Stern. I imagined her chairing benefit galas at the Waldorf Astoria and charming the (just as formidable) Manhattan social set. Today her efforts have seen the Central Park Endowment expand to a truly incredible nearly 1 billion dollars. And this same woman was leading us on, on, all over the park in under two hours! After heartfelt thanks, Betsy had to leave for a radio interview, and Harry and Nick and I stood watching as she hopped into a waiting sedan to sail on to her next activity. We looked at each other and smiled, now that Betsy was gone, all taking the opportunity to wipe the sweat off our brows. Each of us had seen Central Park through new eyes—and Betsy had guided us to a newfound understanding and wonder.
---
Learn more about Saving Central Park: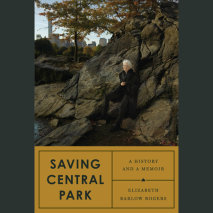 "Narrator Erin Bennett's rich voice is clear and expressive, with a lively pacing that maintains the listener's attention."
—AudioFile

"The author's reasonable voice rings clear in this beautifully written memoir." —The Wall Street Journal

Elizabeth Barlow Rogers, founder of the Central Park Conservancy, interweaves her own life story with a comprehensive history of Central Park.

Listen to an excerpt SAVING CENTRAL PARK