New Book Club Listen: Jodi Picoult's A SPARK OF LIGHT is read by award-winning narrator Bahni Turpin
October 3, 2018
Jodi Picoult's newest audiobook A SPARK OF LIGHT — read by multi-award winning narrator Bahni Turpin — is available now! Listeners who love Picoult's unflinching, beautifully written novels will be drawn to Bahni Turpin's narration, and A SPARK OF LIGHT is the perfect book club pick for spurring timely conversations. Jodi herself reads the author note, and this author-narrator combination is not to be missed.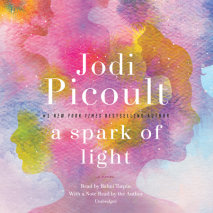 "Picoult delivers another riveting yarn…in this carefully crafted, utterly gripping tale." —Booklist (starred review)
Listen to an excerpt

Click here for more book club recommendations and audio excerpts.