Road-Trip Listening Suggestions for Family Fun Month
August 1, 2017
August is Family Fun Month. Many families use these precious last weeks before school starts to travel together. One way to make getting there and back a little more pleasant is by listening to an audiobook.
For road trips where everyone will be listening to the same thing, it can be hard to find exactly the right audiobook. In any given car there's a variety of ages and interests, plus you want something that will keep everyone's spirits up and won't make anyone in the car blush or squirm (at least not too much). Here are some suggestions:
If the car has early-elementary schoolers: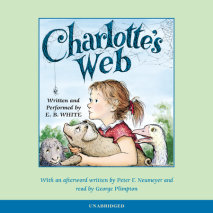 My mom read Charlotte's Web aloud to my sister and me when we were growing up, and we were charmed by the children's classic. When I first started at Listening Library, it was recommended that I experience Charlotte's Web again by listening to the audio. I'm glad I did. Author E. B. White's narration adds an extra layer of nuance to the story of farm life and friendship. My favorite aspect of the audio is the voice Mr. White uses for Templeton.
Listen to an excerpt CHARLOTTE'S WEB
If the car has kids nearly in middle school:
If the car has seasoned middle schoolers:
If the car has high schoolers: