The Girl Who Takes an Eye for an Eye Is A Great Next Chapter of the Millennium Series
September 14, 2017
The Millennium Series is a magnificent listen. With the majority of the series narrated by Audiofile Earphones Award‒winning narrator Simon Vance, the chronicles of Lisbeth Salander are in good hands. Beginning with The Girl with the Dragon Tattoo and continuing with the recently released The Girl Who Takes an Eye for an Eye, author David Lagercrantz proves again that he is able to expertly pick up where Stieg Larsson left off.
Catch up on all of Lisbeth Salander's adventures, and make sure to listen to The Girl Who Takes an Eye for an Eye when it becomes available September 12th.
---
. . .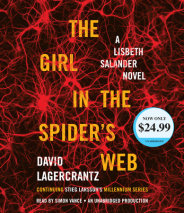 A genius hacker who has always been an outsider. A journalist with a penchant for danger. She is Lisbeth Salander, the girl with the dragon tattoo.
Listen to an excerpt The Girl in the Spider's Web
. .