Get Road Trip Ready With Audiobooks
July 21, 2021
Put your foot on the gas with audiobooks that will put you in the middle of all kinds of travel: across countries, through decades, and into the lives of unforgettable characters.
With audiobooks in your car speakers and trusty companions by your side (someone has to dole out the snacks and pick roadside attractions), you'll be ready to chart new courses.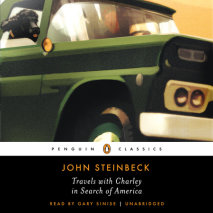 John Steinbeck, at the age of fifty-eight and alongside his French poodle Charley, set out to rediscover the country he had been writing about for so many years. In Travels With Charley, Steinbeck reflects on the American character, racial hostility, the particular form of American loneliness he finds almost everywhere, and the unexpected kindness of strangers.
"Of all the narrators who have tried to grasp the wayward wit and glorious vision of Nobel laureate Steinbeck, Ron McLarty is the best."–AudioFile, Earphones Award Winner