Producer Travel Diary: Gingerbread in Prague
March 15, 2019
I've been a big fan of Helen Oyeyemi for a long time. When I first read Boy, Snow, Bird, I immediately looked it up on Audible to see who narrated it. Helen's characters are so rich and complex, her language so nuanced and playful and precise, that I knew her writing would be a gift for any actor, and wonderful to cast. I was so jealous not to have produced her books on audio! We finally brought the audio editions of Helen Oyeyemi's work in-house with Gingerbread, and I was prepared to fight off the rest of my team to get to be her producer.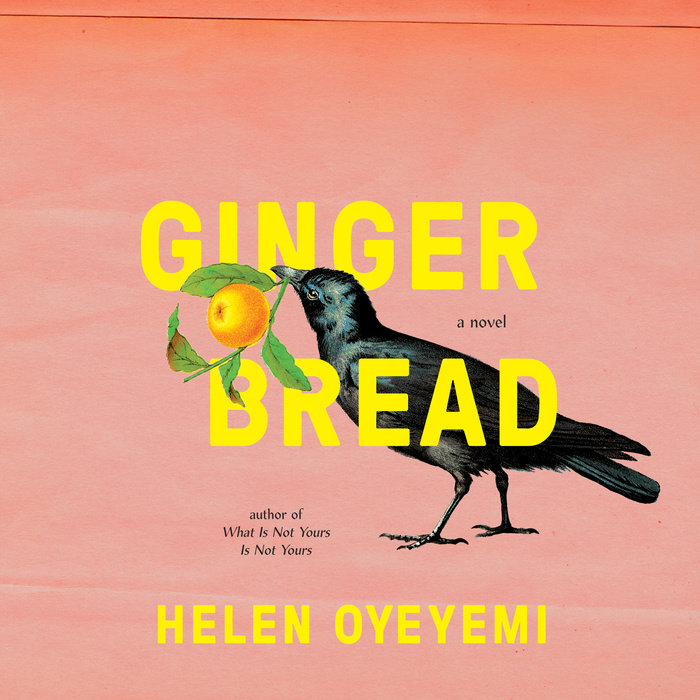 It's an exciting novel: a matryoshka doll of a book about mothers and daughters, about escapes and spells cast and finding one's way home, with stories wrapped in stories wrapped in other stories; a meditation on storytelling itself. Like all of Helen's writing, Gingerbread blends an otherworldly edge of magic and myth and fable and fairytale with the groundedness of family, of social mores and daily life, of fractured truths and incidental wickedness, commonplace fate and the everyday unreliable. I don't always think authors are the right choice to narrate works of fiction, but with Helen's gorgeous British accent and keen sense of her own pacing, I happily made an exception when I learned she wanted to narrate Gingerbread herself. There was just one condition: I wanted to direct her. That was when I learned that Helen lives in Prague. Oh. Well, then. Research ensued. A case was made. A plane ticket was purchased. And in early January, off I went.
Notes from Sarah's Prague Journal
Pre-Recording Prep (and hunting for gingerbread)
Once I land, I spend a day getting my bearings. I visited Prague in 2015, and it's nice to be back—in the winter, this city feels less crowded and more like itself, and I'm grateful to be here. Here is the world's worst photo of the famous magnificent astronomical clock—I was holding a cup of hot mulled wine at the time.
To be cute, I try to pick up gingerbread—pernĂ­k in Czech—to bring to the studio in the morning, but the bakery I looked up online is closed for a post-holiday break. Of course. I do, however, stumble upon a completely empty art exhibition that's exactly to my tastes, and I wander around, taking my time looking at everything and snapping photos of the artwork with impunity since I know I won't be annoying anyone by doing so. A lot of my time in Prague is like this: unexpected closures, fortuitous discoveries, a block that looks completely different walking in one direction than it does when passing through again the other way, and once I swear the key to the door of the apartment I'm staying in turns the opposite way to open the lock than it did before. Instead of the gingerbread, which I'd been prepared to nibble on, I settle on the closest thing I can find at the grocery store, which turns out to be a tin of hot cocoa mix and a box of simple, subtly cinnamon-ed cookies which I enjoy in my Airbnb while I look over the manuscript and prepare one last time for the first day of recording. I've been in touch with Helen plenty in the previous weeks to discuss the book and approach to recording, etc., but I can't wait to meet her and hear how she sounds in the booth!
RECORDING DAY 1
"What she's able to do is special and rare."
I'm staying in Vinohrady, which is a more residential neighborhood than the Old Town, filled with beautiful Art Nouveau architecture and tons of restaurants – but more importantly, I'm only a six-minute walk from Sype Studios, where we'll be recording. It's cold and threatening to drizzle, so I bundle up and head down the street, where I'm greeted by Lada and Jakub. It's so nice to meet Lada after coordinating bookings with him over email, and Jakub, the engineer Helen and I will be working with, is wonderful. Both of them speak excellent English, the studio setup is great, and I'm immediately at ease. I may be in another country, but once I'm at work in a recording studio, I feel right at home! As Jakub and I are chatting, I mention that, "Helen should be here any minute…" and right on cue, she walks in the door. We immediately hug each other, and I'm so thrilled to meet her. By some stroke of luck, all of my favorite writers turn out to be unbelievably warm and gracious and lovely, and Helen Oyeyemi is no exception. I have a theory that since writers have to be good observers, the truly great ones have built up a lot of empathy through years of reading (and of reading people), and that building characters builds compassion.
To break the ice before I send her into a soundproof box to emote and enunciate for six to eight hours, Helen and I have a cup of tea and talk about Prague and what brought her there. She's from London originally, and the first time she visited Prague, it was for a three-day visit and she hated it—but she says that much like in a rom-com where the lovers can't stand each other at first, Helen couldn't get the city out of her head and ended up coming back for good almost five years ago. She says she finds Prague creatively inspiring, and I totally see why – there are so many parallels between the city and her work. Both are filled with lush, creepy, fairy-tale vibes but are decidedly modern, with a nice bit of grit. Even the elegant candy-colored houses in Prague remind me of the cover of Gingerbread, which is a peachy coral that Riverhead designer Helen Yentus has presciently matched to Pantone's 2019 color of the year, which Helen O. and I note is extremely appealing but very difficult to wear. We wonder whether either of us could pull off a coral lipstick.
We discuss the book a little more, and I send her into the booth, where she proceeds to effortlessly crush it like a natural and absolutely blow me away. Somehow, her delivery has me waiting at the end of every sentence to figure out what might happen next, even though I've already read the entire book three times. I am a very proud producer. I make a note not to tell other fiction writers how good Helen's narration is, because I don't want them to get any ideas. What she's able to do is special and rare.
When it's time to break for lunch, I shyly ask how they do lunch breaks in the Czech Republic, and explain that in the US, we usually order something in and eat quickly before going back to work. "We can do that," Helen and Jakub say thinly, blinking at me. It's clear that in Europe, most people go out for lunch, so we do – when in Prague, and all that. It's extremely civilized and pleasant. We head to a Vietnamese restaurant (Prague has a huge Vietnamese community due to open immigration policies between former Czechoslovakia and Vietnam when both were communist countries, and the abundance of excellent pho makes me very happy). After lunch we return to the studio and record another 90 pages – right on target – and I send Helen home to rest her voice and her brain until tomorrow.
I wander around the city streets for a little bit, then head "home" myself to drink a Czech beer while I catch up on emails—it's still only 3pm in New York and I want to check in on my other projects. I wish I could go out and explore more (Prague's bars are supposed to be great, and friends have recommended plenty to me, including one named after Hemingway and another named after Bukowski, both of which feel a bit on the nose for me this trip), but it's rainy and cold out and I want to be sharp for tomorrow (and besides, neither Hemingway nor Bukowski treated women particularly well), so instead I stay in and make more cocoa and read more Hrabal.
RECORDING DAY 2
"Briticisms" and "boffins"
Helen asks what I did last night, and I tell her about the book I'm reading. She's excited, and calls Jakub over: "She's reading Hrabal!" Helen tells me a story about how in the 1970s, a group of his peers at a pub decided that Bohumil Hrabal was the best living writer and walked to his house in the middle of the night to tell him so and present him with a paper crown, and he invited them in and it turned into a rousing party (!!!). We discuss how hard Czech is to learn, both because the sounds and grammar are difficult for English speakers, but also because of the enormous and precise vocabulary, which Jakub assures us means Czech poetry is excellent.
We also record another 90+ pages today, and Helen's narration continues to be wonderful, especially her dialogue as we meet new characters. One funny thing about this recording is that though we're both native English speakers, our Englishes are slightly different, so we keep stopping to double check that certain pronunciations are correct: "Helen, I've heard it pronounced this way, but you're saying it that way. Is that a British thing, or is one of us wrong?" We end up consulting the Cambridge English dictionary online a lot, and I play her the correct UK pronunciations of each word over the talkback. Sometimes we listen to the American ones too, just for fun, and it's surprising how different they are. I tell her she could say things however she wants and just tell me they're Briticisms and I'd have to believe her. At one point, I have to ask her what a "boffin" is (one of the main characters gets called a "solid gold" one), and she tells me it's someone who gets made fun of for loving school, at least in London. It turns out I've been a boffin all along, and only just heard about it.
RECORDING DAY 3
"Reading makes your individual world bigger and makes the whole world smaller…"
Our last day goes just as well as the first two, and I'm so proud of Helen and of how this production is turning out. We wrap the book, and record a brief interview for our "This is the Author" podcast, in which Helen describes the recording process as "joyful" (!!!) and talks about how many different kinds of gingerbread she tried during her writing process. It's hard to say goodbye to this magical project, but I promise Helen I'll see her soon, since the first stop on her book tour in March is at Greenlight Books, my neighborhood bookshop! More proof, as if we needed it, that reading makes your individual world bigger and makes the whole world smaller.
After finishing up work, I take a long walk up to Prague Castle, because I'm leaving in the morning, and how often do you get to walk to a castle after work?! I find an art gallery that's open late due to an exhibition closing, and this time it's full of happy Czech people talking and drinking wine. I go in and look around. I decide to walk to a vegetarian restaurant Helen recommended (the Czech Republic, Anthony Bourdain once said, is the land that vegetables forgot, and indeed I was sorely craving a leaf of some kind), and on the way I stop to buy a kids' book about the legendary Golem of Prague in Spanish, because why not? On my way to dinner, I also end up crossing the iconic Charles Bridge, which during my first visit to a summer Prague was clogged with tourists and hawkers selling tchotchkes to them, but tonight it is nearly empty; the bridge is just a bridge, albeit a breathtaking one. It's lightly misting and the moon is reflecting in the Vltava River below, and before I realize what's happening I feel my eyes well up from the beauty. Great: I am now forever ruined for all future business trips.
Listen to a clip of Gingerbread,
recorded in Prague by author Helen Oyeyemi, here:
Influenced by the mysterious place gingerbread holds in classic children's stories, beloved novelist Helen Oyeyemi invites listeners into a delightful tale of a surprising family legacy, in which the inheritance is a recipe.
"Oyeyemi is just a master at reworking a fairy tale in strange and lovely ways, and with language that has me hitting that rewind button…this one is narrated by Oyeyemi herself and her voice is silky smooth perfection."—BookRiot
"Exhilarating…A wildly imagined, head-spinning, deeply intelligent novel."—The New York Times Book Review

Listen to Helen Oyeyemi on our podcast, This is the Author: