If You Like The Handmaid's Tale, Try These Audiobooks
May 23, 2019
Margaret Atwood's The Handmaid's Tale is one of those special must-read classics that leaves you hungry for more. Luckily, Atwood's sequel, The Testaments, will be arriving later this year so fans can travel back to Gilead.
While you wait, though, there are plenty of enthralling audiobooks that you can listen to if you love The Handmaid's Tale. Check them out: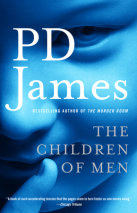 In England in 2021, all human males have become sterile and no child will be born again. The final generation has turned twenty-five, and civilization is giving way to strange faiths and cruelties, mass suicides and despair. Theodore Faron, Oxford historian and cousin to the omnipotent Warden of England, a dictator of great subtlety, has resigned himself to apathy. Then he meets Julian, a bright, attractive woman, who wants Theo to join her circle of unlikely revolutionaries, a move that may shatter his shell of passivity…and maybe hold the key to survival for the human race.

And, mark your calendars for the long-awaited sequel to The Handmaid's Tale!