Make the Most of Your Minutes: Read While You Cook
July 24, 2020
The Radishes with Radish Greens Butter from Drinking French is a dish focused on not wasting food: it utilizes every part of the radish, from bulb to leaf.
While you cook this waste-free recipe, reclaim the minutes you wish you had to read with these audiobooks all about using the time you have to tell the truth, chart your own course, and take back your story.
Waste not! Find the full recipe here, or printed below.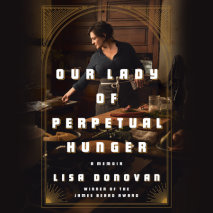 Noted chef and essayist Lisa Donovan helped establish some of the South's most important kitchens, and her pastry work is at the forefront of a resurgence in traditional desserts. Yet Donovan struggled to make a living in an industry where male chefs built successful careers on the recipes passed down from generations of female cooks and cooks of color. Our Lady of Perpetual Hunger is Donovan's chronicle of reclaiming her own story and the narrative of the women who came before her.
Four older women have a lifelong friendship of the best kind: loving, practical, frank, and steadfast. But when Sylvie dies, the ground shifts dangerously for the remaining three. Without Sylvie to maintain the group's delicate equilibrium, frustrations build, lies are uncovered, and painful memories press in over the course of one life-changing weekend trip.
Ever since she can remember, Vanessa has been able to see people's fortunes at the bottom of their teacups. To avoid blurting out their fortunes, she converts to coffee. To add to this plight, her romance life is so nonexistent that her parents enlist the services of a matchmaking expert. When her eccentric Aunt Evelyn shows up with a tempting offer to whisk her away, Vanessa says au revoir to California and bonjour to Paris. There, Vanessa learns more about herself and the root of her gifts and realizes one thing to be true: knowing one's destiny isn't a curse, but being unable to change it is.
Radishes with Radish Greens Butter
I'm anti-gaspillage, as the French say, or someone who doesn't waste food, like my in-laws who make a soupe aux fanes de radis, radish leaf soup, rather than tossing the still-tasty greens away.
To make this astonishingly green spread, make sure the butter is very soft. If your kitchen is on the cool side, put the butter in a warm (not hot) place to soften before mixing it with the radish leaves. Be sure to wash the greens thoroughly, in several changes of water if necessary, to ensure your radish butter is free from any grit. If you don't have a food processor, chop the radish leaves very finely with a chef's knife after they're cooked, then mash them into the butter with a fork. And if you can, make the butter in advance so the flavors meld together.
Makes 6 to 8 appetizer-size servings, ½ cup (115g) butter
4 cups (60g) loosely packed radish leaves
6 tablespoons (85g) salted butter, cubed, at room temperature
1 small or medium garlic clove, peeled and minced
1⁄2 teaspoon kosher or flaky sea salt, plus extra for serving
Freshly ground black pepper
Fresh radishes, trimmed
Bring a small pot of water to a boil. Fill a medium bowl with very cold water and ice cubes, and have a mesh strainer handy.
Add the radish leaves to the boiling water and leave them in the water until the leaves are wilted, about 12 seconds. Drain the leaves in the strainer and immediately plunge them into the ice water, which fixes the vivid green color. Once cool, remove the radish leaves and squeeze them as hard as you can to remove any excess water.
In a food processor, combine the radish leaves, butter, garlic, salt, and a generous amount of black pepper. Process until the leaves are completely incorporated into the butter. Scrape into a bowl and serve at room temperature with the fresh radishes, either whole or sliced in half, for guests to smear with a little dab of the butter. I make sure to have some flaky salt nearby, in case anyone wants to add a few flakes of that, too.
The radish greens butter can be made up to 1 week in advance and refrigerated. Let it come to room temperature before serving.
VARIATIONS —Here are two more options for flavored butters.To make Seaweed Butter, mix 1½ tablespoons furikake (Japanese seaweed seasoning, available at Asian markets) with ½ cup (115g) softened salted butter.
To make Smoked Paprika Butter, mix 1 teaspoon smoked paprika with ½ cup (115g) softened salted butter and add a sprinkle of salt