Marie Lu's Warcross is a Thrill of a Listen
September 19, 2017
Marie Lu has done it again with Warcross  Known for the Legend and The Young Elites series, Lu has crafted a tale that drops listeners right in the middle of a thrill ride, needing to hear what happens next.
Warcross starts with Emika (Emi) Chen as a bounty hunter, looking for criminals in an effort to make payments on the tiny apartment she shares with her friend. When the international Warcross Championships begin, Emi sees an opportunity to make a quick buck and accidentally glitches herself into the game. Although she's certain she's going to be arrested after that stunt, she's surprised to see that the creator of Warcross, the mysterious Hideo Tanaka, has summoned her to join the tournament—in order to spy for him and his team. With nothing to lose, Emi finds herself in the middle of a dangerous investigation that proves how little she (and the world) understand about the Warcross empire.
The concept of entering a video-game world is reminiscent of Ready Player One, and fans who are eagerly awaiting that new movie will love Warcross. Emi's adventures in the video-game world and the intense mystery of what's going on behind the scenes will keep every listener intrigued.
Narrator Nancy Wu makes Emi a fully rounded character. Emi's fierceness and stubbornness come across just as clearly as her fear and worry about her situation, both financial and within the game. Listeners will empathize with Emi's plight and cheer her on during the awesome action sequences.
Warcross is a great listen for all ages. Plug into the game when you get a chance.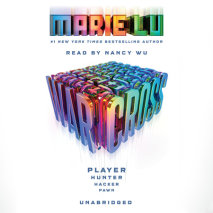 From #1 New York Times‒bestselling author Marie Lu—when a game called takes the world by storm, one girl hacks her way into its dangerous depths.

For the millions who log in every day, Warcross isn't just a game, it's a way of life. The obsession started ten years ago and now spans the globe, with some fans eager to escape from reality and others hoping to make a profit.
Listen to an excerpt Warcross
.