On the Podcast: Dr. Elissa Epel, Dacher Keltner, and Tracy Kidder
January 10, 2023
Welcome to Season 8 of our This Is the Author podcast! There's a lot more that goes on in the recording booth than listeners may realize, and nothing beats hearing authors describe the experience of narrating their own audiobooks while the mic is still hot.
In this episode, we greet the new year and our new season with health psychologist Dr. Elissa Epel, author of The Stress Prescription, professor of psychology Dacher Keltner, author of Awe, and Pulitzer Prize-winning author Tracy Kidder, author of Rough Sleepers. Listen in to learn about the science behind awe, how we can embrace stress, and the real-life story about a small group of people changing lives.
Subscribe to the This Is the Author podcast here, or wherever you listen to podcasts:
Apple Podcasts | Stitcher | TuneIn | Spotify | Soundcloud 
Listen to clips from the audiobooks mentioned in this episode:
We can't avoid stress. But we can embrace it and transform it. In The Stress Prescription, Dr. Epel distills decades of research, infused with wisdom, into a practical yet transformative seven-day plan of science-based techniques that can help you harness stress through more positive challenge and purpose.
From a foremost expert on the science of emotions and consultant to Pixar's Inside Out, Awe is a groundbreaking and radical investigation into this elusive emotion. Revealing new research into how awe transforms our brains and bodies, alongside an examination of awe across history, culture, and within his own life during a period of grief, Keltner shows listeners how cultivating awe in our everyday life leads us to appreciate what is most humane in our human nature.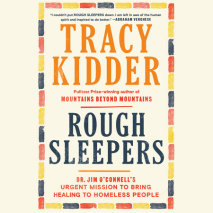 Tracy Kidder has been described by The Baltimore Sun as a "master of the nonfiction narrative." In Rough Sleepers, Kidder shows how one person can make a difference, as he tells the story of Dr. Jim O'Connell, a gifted man who invented ways to create a community of care for a city's unhoused population, including those who sleep on the streets—the "rough sleepers."
Find more of your favorite author/narrators on our This Is the Author page, and subscribe to the podcast.