Q&A with Steven Rowley, author of The Editor
April 3, 2019
The Editor leaves a mark. We're thrilled to finally share one of our new favorites on audio that will no doubt leave you reflecting—long after the last line—on these memorable characters both fictional and very well-known, and on the stories and secrets that shape your own life. We invited author Steven Rowley to share his reflections with us, as well, on what led him to write this extraordinary book that you'll want to recommend to friends as your next (audio)book club pick, or as a sure-fire cure for a too-long commute. Meet the writer…and then get ready to meet The Editor.

Tell us about your audiobook…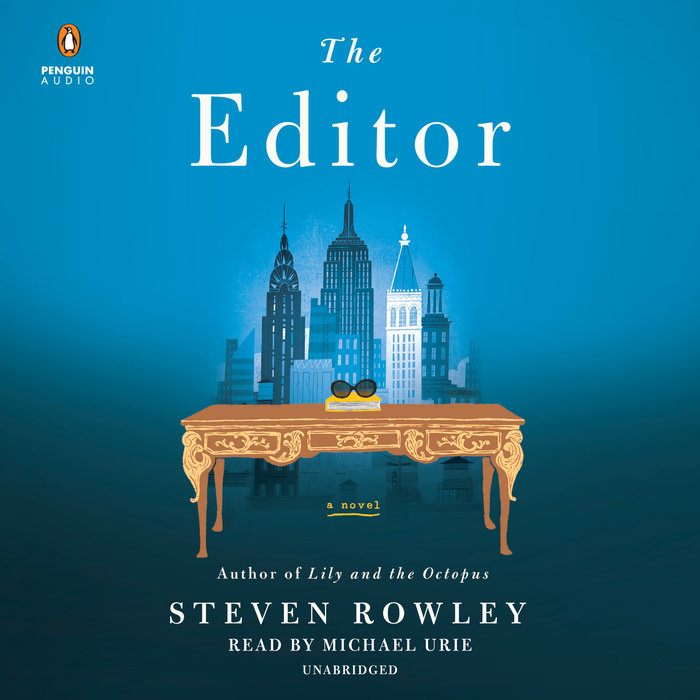 The Editor features a striving young writer armed with a candidly autobiographical novel, and the (extraordinarily) well-known New York book editor who stands to change his life forever—both as a writer and a son.
In 1992, first-time author James Smale is bowled over to discover that his manuscript is acquired for publication by none other than Jacqueline Kennedy Onassis. The two develop a close working relationship, and in guiding his novel towards publication, Jackie is also subtly steering James towards reconciliation with his mother—the subject of his book.
My goal in writing the novel was to shine a light on the stories we tell the world about our families and our lives—and the funny, often perverse, sometimes wrenching truths that we unwittingly expose.
When did you know you wanted to be an author?
An interest in writing grew naturally from a love of reading, something I had from a very young age. I remember in grade school I would write short stories and my mother would haul out a typewriter she had tucked away and I would spend hours diligently typing them. I suppose it was a way to keep me busy as she dealt with three other kids, but I loved it. On occasion, I would draw a cover page and my father would take a story of mine to his office and run a few photocopies, collated and stapled, and bring them home for me to distribute. That felt to me like being published. From then on I was hooked.
Who is the most challenging character you've written and why?
Jacqueline Onassis, without a doubt. Not only was she a living, breathing person, she's someone I have enormous respect for. I never wanted it to feel like I was using her as a gimmick to attract eyes to my story—she deserves better. I wanted her to have real narrative purpose, to drive the action of the story. On top of that, she's so incredibly well known; everyone is going to have an opinion on how she sounds and appears. What little leeway I had stemmed from how private she was during this extraordinary third act in her life. She only granted one interview during her entire career in publishing. This made research a challenge, but fortunately there are several books on her time as an editor and I was able to speak to people who had met and worked with her. Additionally, I read several of the books she had edited around the time of my story to inhabit some of the topics that interested her, and to imagine what might have been on her professional mind. From there, I added a little writerly magic and hopefully the final result is a sensitive portrait that honors her.
Michael Urie reads your audiobook! What made him the perfect pick to read this?
Michael is an enormous talent and I'm so lucky that he agreed to work with us. He originated the role in the brilliant one-man play
Buyer & Cellar
by Jonathan Tolins. In it, he played a young man working for Barbra Streisand in the private (and very real) shopping mall that she had built under her house. If he could so lovingly embody an icon like Barbra on stage, I knew he could bring Jackie to life. I also saw his heartbreaking portrayal of Arnold in the 2018 Broadway revival of Harvey Fierstein's
Torch Song
. It's a stunning exploration of a gay man's search to define family while demanding respect from his mother—thematic parallels to
The Editor
. I admire his ability to slay you with a joke while quietly breaking your heart; it's something I aspire to in my own writing, because I think life is many things all at once. I'm just an enormous fan, and now I'm lucky enough to call him a friend.
Did the experience of listening to your audiobook reveal something about your work that you didn't expect? If so, what?
When you live with something as long as you do a manuscript (the process of writing a novel is measured in years), it gets locked in your brain in a certain way. Especially when you write in the first person. I hear each sentence with a very specific cadence. To hear someone else read it, especially someone as talented as Michael, is a gift. It breaks the book free from the mold I've cast and allows me to get lost in performance and experience the story in a new light. It's the closest I can ever come to being a reader of my own work.
Is there a certain book, movie, or author that's been influential for you?
So many that it would be difficult to answer this question. I take away some lesson from almost every piece of art I consume. For the moment, I'll focus on some of my fellow queer writers as there are so many whose books have moved me this past year: Andrew Sean Greer, John Boyne, Michael Cunningham, Patrick Ness, Garrard Conley, Grant Ginder, Christopher Castellani, Alexander Chee, Alison Bechdel, James Baldwin, Patricia Highsmith, Andrew Holleran, Christopher Isherwood…I could go on and on and on. Novelists, memoirists, YA writers. They're all inspirational to me.
What's your favorite library memory?
I am a huge fan of libraries, and have been ever since my parents walked me into the children's reading room in my hometown library in Maine. Over the summer, my sister and I would attend summer reading programs, and afterwards we were allowed to walk across the street to the dairy freeze—a big deal to us at the time as we were trusted with a little bit of spending money, the diary freeze sat across a precarious 5-way intersection from the library, and, well, they served a generous scoop.
One summer day after our program at the library let out, my sister discovered that she had had misplaced her ice-cream money. Initially I shrugged at her predicament. How awful for her that she would have to sit and watch me eat an enormous bucket of ice-cream while she, herself, had none. She, however, insisted it was my moral duty as her older brother to split my money with her so that we could each enjoy a small frozen treat. Haha. As if! We fought about this for quite some time until the children's librarian intervened. She gave my sister money out of her own pocket, equal to the amount she had lost, and we both went on our merry way to get ice-cream.
When we relayed this story to our mother on the drive home – pleased with our good fortune—she pulled an immediate U-turn in the busy street and frog-marched us back into the library to repay the librarian. WE DO NOT TAKE MONEY FROM LIBRARIES. Libraries give us enough already.
I've never forgotten that because it's true. Librarians give so much of themselves for two reasons. They love books. And, even more, they love readers.
Listen to a clip from the audiobook:
"While diving deeply into questions of identity, loyalty, and absolution within the bonds of family, Rowley, author of the beloved Lily and the Octopus, soars to satisfying heights in this deeply sensitive depiction of the symbiotic relationships at the heart of every good professional, and personal, partnership."—Booklist
"An insightful look into the world of publishing and the relationships we forge at work and at home."—Library Journal