Randy Wayne White's Exciting Doc Ford Series
April 23, 2018
Marion "Doc" Ford has grown accustomed to his life working in a Marine Biology lab on the Gulf Coast of Florida. However, Doc's life wasn't always so quiet.
He used to be a CIA agent, and was trained as an assassin. Although Doc longs for a simple life, he often finds himself using his training–and high-tech gadgets– at the center of investigations. Throughout 25 novels by Randy Wayne White, Doc uses his skills to protect his beaches, his hometown and its "eccentric inhabitants".
"Hats off to White for combining suspense and madcap adventure with such dexterity…Being an under-the-radar kind of guy, Doc Ford is likely not too happy at the way his adventures keep turning up on best-seller lists, but he'd better deal with it; the trend isn't about to change," writes Booklist.
Narrating for the complex Doc (and many other characters) is George Guidall, an award-winning actor with a career spanning 40 years. Guidall has appeared in leading roles both on and off Broadway, and has credits in film and television. He's an incredibly sought after narrator in the world of audiobooks; over the course of his career he's narrated more than 800 novels.
"If you want your audiobook to be a success, hire George Guidall. Pretty simple. It's even better when Guidall reads a masterful story, like Black Widow," Audiofile writes of one of Guidall's performances in the Doc Ford series. "Guidall perfectly becomes all the characters, even the women, both young and alluring and icy and suspicious."
In White's latest novel, Carribbean Rim, Doc is helping another friend in need. Carl Fitzpatrick, who has been chasing sunken shipwrecks for years, has had his rare Spanish coins and a list of uncharted wreck sites stolen by the Florida Division of Historical Resources's director and his assistant. Because some of Carl's escapades have been less than legal, he turns to Doc for help. Suddenly Doc finds himself in the company of robbers, cheaters and killers, in a situation he's never faced before.
here
. Listen to clips from the latest additions to the series: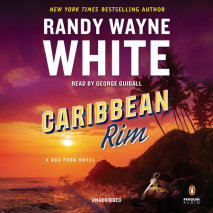 Marine biologist Doc Ford has been known to help his friends out of jams occasionally, but he's never faced a situation like this. His old pal Carl Fitzpatrick has been chasing sunken wrecks most of his life, but now he's run afoul of the Florida Division of Historical Resources. Its director, Leonard Nickelby, has disappeared–along with Fitzpatrick's impounded cache of rare Spanish coins and the list of uncharted wreck sites Fitz spent decades putting together.CARIBBEAN RIM
Want even more? Take a look at the entire Doc Ford series!