Sound Off on Censorship: Listens for Banned Books Week
September 24, 2018
During Banned Books Week (September 23rd to September 29th), we're joining the rest of the literary community to celebrate freedom of speech and to stand up for the right to hear powerful stories. The titles below are some of the most frequently challenged or banned books, and also some of the most highly acclaimed. As you browse through these audiobooks take note of some of the reasons they were banned and censored. Then, proudly declare that you listen to banned books!
See our full collection of banned books and read up on more ways to celebrate Banned Books Week on Books on Tape.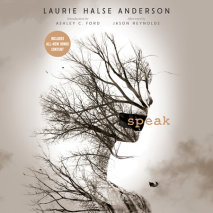 Melinda Sordino knows she's an outcast. She busted an end-of-summer party by calling the cops so her old friends won't talk to her, and people she doesn't know glare at her. She retreats into her head. But it's not so comfortable in her head, either — there's something banging around in there that she doesn't want to think about. Try as she might to avoid it, it won't go away, until there is a painful confrontation. Once that happens, she can't be silent — she must speak the truth.
Challenged For: soft pornography, glorifying drinking, cursing and premarital sex
Listen to an excerpt Speak