TED and TEDx Talks Motivate You Personally and Professionally
October 9, 2017
TED Talks were born when a media organization, TED (Technology, Entertainment, Design), began holding conferences in the mid-1980s. TED events are held all over the world, and the talks address a variety of topics concerning science and culture. Speakers from Jane Goodall and Al Gore to Bono and Bill Gates have given TED Talks. From these emerged TEDx Talks, organized by volunteers from local communities.
Many insightful lessons and stories have been shared via TED and TEDx Talks, so it's no surprise that many of our authors have participated and shared their own stories—stories that inspire people in business and in their personal lives.
Take a look at some of our authors' TED and TEDx Talks, then listen to their audiobooks for more insight.
Simon Sinek, author of Find Your Why and Start with Why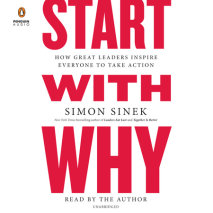 Start with Why shows that the leaders who've had the greatest influence in the world all think, act, and communicate the same way—and it's the opposite of what everyone else does. Listen to a clip of Start with Why: Start with Why
Brené Brown, author of Braving the Wilderness

Tommy Caldwell, author of The Push

Bernadette Jiwa, author of Hunch

Leila Janah, author of Give Work

Tasha Eurich, author of Insight

Anthony Tjan, author of Good People

For more business reads, take a look at our
Business Collection
.