Warm Up Your Kitchen with Sparkling Gingerbread and Kids' Classics on Audio
October 30, 2020
It's Halloween weekend, and we've got Vampire bunnies (ahem, see below) and baking on the brain! In this week's Listen and Cook, we're sharing this easy recipe for Sparkling Gingerbread from Yossy Arefi's cookbook Snacking Cakes. And since cake and heartwarming stories go perfectly together, especially if you're sharing your kitchen with little bakers, see below to get our recommendations for classic kids' audiobooks (that adults will also love).
Get the recipe: Sparkling Gingerbread from Snacking Cakes: Simple Treats for Anytime Cravings by Yossy Arefi* (also printed below).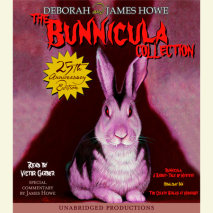 If you're looking for the perfect blend of spicy and sweet to transition from Halloween into the holiday season, you can't go wrong with this collection of the first three audiobooks in the critically acclaimed Bunnicula series. Bunnicula has it all: a vampire rabbit, witty repartee between a dog and cat, and a slew of nocturnal adventures.
"Victor Garber is exceptional as he gives each character—canine, feline, or human—a distinct voice and identity…The humor exists on several levels, from slapstick to literary, and Garber manages to make these audiobooks equally enjoyable for children and adults."—AudioFile, Earphones Award winner
Listen to Mildred D. Taylor's Newbery Award-winning masterpiece with a new introduction by Jacqueline Woodson.
"[Lynne] Thigpen gives a keenly felt portrayal of each character, capturing the nuances and inflections in the voices of people driven nearly to despair, as well as tender moments of compassion between parent and child…Listening to her eloquent reading brings an already powerful story vividly to life in a performance you'll find hard to shut off and sorry to see end."—AudioFile, Earphones Award winner
Brought to life by Meryl Streep and a full cast, this beloved book by E. B. White, author of Stuart Little and The Trumpet of the Swan, is a classic of children's literature that is "just about perfect" (New York Times).
"A top-notch recording of a beloved book and a must for all audio collections."—Booklist, starred audio review
---
Sparkling Gingerbread
From Snacking Cakes by Yossy Arefi
This spicy gingerbread gets three hits of ginger—crystallized, fresh, and ground—for lots of punchy flavor in an easy-to-stir batter. You can grate the fresh ginger with a Microplane; you don't even need to peel it. The cake's sparkling, crispy top comes from a generous sprinkle of turbinado sugar, but it's also delicious with a bit of citrus or a chocolate glaze instead.
1/2 cup (100g) dark brown sugar
2 large eggs
1/2 cup (120ml) buttermilk, well shaken
1/2 cup (113g) unsalted butter, melted
1/4 cup (80g) unsulfured molasses (not blackstrap)
1 tablespoon finely grated fresh ginger
1 tablespoon ground ginger
1 teaspoon ground cinnamon
1/8 teaspoon ground cloves
3/4 teaspoon kosher salt
1 1/2 cups (190g) all-purpose flour
1 1/2 teaspoons baking powder
1/2 teaspoon baking soda
1/4 cup (25g) finely chopped crystallized ginger
2 tablespoons turbinado sugar
1. Position a rack in the center of your oven and preheat the oven to 350ÂşF. Butter or coat an 8-inch square baking pan with nonstick spray. Line the pan with a strip of parchment paper that hangs over two of the edges, then butter or spray the paper, too.
2. In a large bowl, whisk the brown sugar and eggs until pale and foamy, about 1 minute. Add the buttermilk, butter,
molasses, fresh and ground ginger, cinnamon, cloves, and salt. Whisk until smooth and emulsified.
3. Add the flour, baking powder, and baking soda and whisk until well-combined and smooth. Use a rubber spatula to fold in the crystallized ginger.
4. Pour the batter into the prepared pan, tap the pan gently on the counter to release any air bubbles, and smooth the top of the batter. Sprinkle the turbinado sugar evenly over the top.
5. Bake the cake until puffed and golden, and a skewer inserted into the center comes out clean, 30 to 40 minutes. Set the cake on a rack to cool for about 15 minutes. Then use the parchment paper to lift the cake out of the pan and set it on the rack to cool completely. (Store the cake, well wrapped, at room temperature for up to three days.)
Copyright © 2020 by Yasameen Arefi-Afshar. Published by Clarkson Potter, an imprint of Penguin Random House.
*Photographs by Yossy Arefi, photo styling by Ali Slagle from Snacking Cakes