What We're Listening To: May 2019 Picks
May 16, 2019
May is such a great month. There's a lot of sunshine and weather that begs you to be outside as much as possible after months of being cooped up. I love getting off the subway a few stops early to leisurely walk home after work, or spending my weekends walking around new neighborhoods and parks.
While I enjoy listening to the sounds around me, it's a lot more entertaining to listen to something as I walk. This month, I've got a little bit of everything on my playlist: audiobooks, podcasts, and music.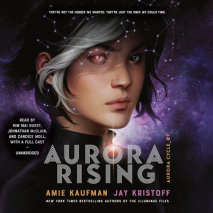 I'm one of those people that love YA. I normally gravitate toward contemporary fiction or fantasy in YA, but I also love stories about underestimated misfits so I was excited to download
Aurora Rising
. It's a sci-fi space epic about a motley group of cadets who are assigned their first mission. The leader of the group is Tyler, and he's just rescued a girl, Aurora. She's just woken up from two centuries in cryo-sleep…and might be the catalyst to a war millions of years in the making. Not only is the story itself engaging but it's read by a full cast of wonderful narrators (
meet the cast now!).
Listen to a clip of Aurora Rising:
AURORA RISING
When I'm only looking to listen to something for a short amount of time (and I don't feel like music), the 10 Things That Scare Me podcast is my go-to. Each episode is less than ten minutes long (many hover around the seven-minute mark). In each episode, a person literally shares a list of the ten things that they are most scared of. The people on the podcast range from musicians and actors to writers, chefs, and politicians; their lists evoke a range of emotions. There are funny items (like egg yolks and divorce attornies) to serious, soul-searching things like falling out of love, global warming, and being alone.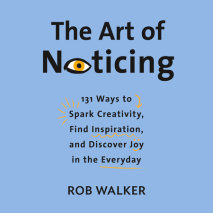 Since I'm in a continual state of self-care, the other audiobook I'm listening to this month is
The Art of Noticing
. It's so easy to fall into a routine and take everyday things for granted so this audiobook teaches "conscious noticing" to remind the listener to really see the things around them. There are 131 exercises that are simple to do that help you become a better listener, spark creativity, and see things with a fresh pair of eyes.
Listen to a clip of The Art of Noticing: THE ART OF NOTICING
When I'm in the mood for music, I've been listening to Lizzo's newest album (Cuz I Love You) on repeat this whole month. Her album is full of inspiring, girl power-type of songs that make you want to get up and dance. I'm particularly obsessed with the song "Soulmate." With lyrics like, "True love ain't something you can buy yourself/True love finally happens when you by yourself/…/'Cause I'm my own soulmate" this song fuels my positive thinking.
And, finally, I wouldn't be able to get through a week, let alone a month, without listening to some Broadway tunes. There have been a lot of stellar musical openings on Broadway recently. One of my favorites (and everyone else's too: it has 14 Tony award nominations) is Hadestown. It's the best combination of things: a story based on mythology, killer music and vocals, and an incredible set design. Since they haven't yet released the official Broadway cast recording, I've been listening to Hadestown's live original cast recording.
Happy listening to you and your own May playlists!