In football, as in life, the value we place on people changes with the rules of the games they play.When we first meet the young man at the center of this extraordinary and moving story, he is one of thirteen children by a mother addicted to crack; h...
In 1991, acting on a tip from a local fisherman, two scuba divers discovered a sunken German U-boat–complete with its crew of 60 men–not too far off the New Jersey coast. The divers, realizing the momentousness of their discovery, began p...
When Mark Salzman is invited to visit a writing class at Central Juvenile Hall, a lockup for Los Angeles's most violent teenage offenders, he scrambles for a polite reason to decline. He goes—expecting the worst—and is so astonished...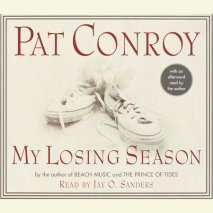 NEW YORK TIMES BESTSELLER • A deeply affecting coming-of-age memoir about family, love, loss, basketball—and life itself—by the beloved author of The Prince of Tides and The Great Santini   During one unforgettable season as a C...