GRAMMY Awards (Best Spoken Word Album)
2018 GRAMMY® Winner for Best Spoken Word AlbumThe Princess Diarist is Carrie Fisher's intimate, hilarious and revealing recollection of what happened behind the scenes on one of the most famous film sets of all time, the first Star Wars mo...
Winner of the 2017 Grammy for Best Spoken Word AlbumComedy legend Carol Burnett tells the hilarious behind-the-scenes story of her iconic weekly variety series, The Carol Burnett Show.   Who but Carol Burnett herself has the timing, talent, and ...
Winner of the 2015 Grammy for Best Spoken Word AlbumFollowing up the phenomenal success of her headline-making New York Times bestseller I Hate Everyone...Starting With Me, the unstoppable Joan Rivers is at it again. When her daughter Melissa gives h...
It-girl Betty White delivers a hilarious, slyly profound take on love, life, celebrity, and everything in between. Drawing from a lifetime of lessons learned, seven-time Emmy winner Betty White's wit and wisdom take center stage as she tackles topi...
In July 2004, Barack Obama electrified the Democratic National Convention with an address that spoke to Americans across the political spectrum. Now, in The Audacity of Hope, Senator Obama calls for a different brand of politics–a politics for ...
President Bill Clinton's My Life is the strikingly candid portrait of a global leader who decided early in life to devote his intellectual and political gifts, and his extraordinary capacity for hard work, to serving the public. It shows us the...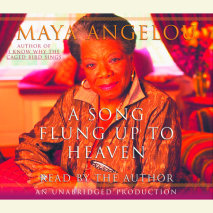 The culmination of a unique achievement in modern American literature: the six volumes of autobiography that began more than thirty years ago with the appearance of I Know Why the Caged Bird Sings. A Song Flung Up to Heaven opens as Maya Angelou re...