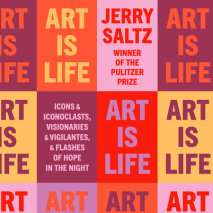 From the Pulitzer Prize winner and bestselling author of How to Be an Artist: a deliciously readable survey of the art world in turbulent timesJerry Saltz is one of our most-watched writers about art and artists, and a passionate champion of the...
Why some of the most interesting artists of our time committed themselves to some of the most devastating conflicts on EarthWhy are some of the most interesting artists of our time committed to engaging with conflict and exploitation around the world...
From one of our most widely admired art critics comes a bold and timely manifesto reaffirming the independence of all the arts—musical, literary, and visual—and their unique and unparalleled power to excite, disturb, and inspire us.As peo...
An archive of collective memory and exuberant testimonyA luminous map to navigate an opaque and disorienting presentAn infinite geography of possible futures What does it mean to be Black and alive right now?Kimberly Drew and Jenna Wor...
From The New Yorker's fiercely original, Pulitzer Prize-winning culture critic, a provocative collection of new and previously published essays arguing that we are what we watch."Emily Nussbaum is the perfect critic—smart, enga...
A single book might not change the world. But this utterly original meditation on art and war might transform the way you see the world—and that makes all the difference. "How to live in the face of so much suffering? What difference can ...