Business & Economics - Advertising & Promotion
An intimate and profound reckoning with the changes buffeting the $2 trillion global advertising and marketing business from the perspective of its most powerful players, by the bestselling author of GoogledAdvertising and marketing touches on every ...
A recovering Mad Man throws down the ultimate challenge to his profession: Innovate or die.The ad apocalypse is upon us. Today millions are downloading ad-blocking software, and still more are paying subscription premiums to avoid ads. This $600 bill...
Why do we get so embarrassed when a colleague wears the same shirt? Why do we eat the same thing for breakfast every day, but seek out novelty at lunch and dinner? How has streaming changed the way Netflix makes recommendations? Why do people think t...
From the bestselling author of Buyology comes a shocking insider's look at how today's global giants conspire to obscure the truth and manipulate our minds, all in service of persuading us to buy.  Marketing visionary Martin Lindstro...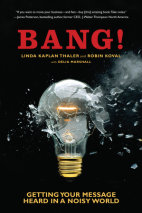 The founders of one of today's hottest, most innovative advertising agencies explain how to ignite the kind of marketing explosions that will capture customers' attention.Linda Kaplan Thaler, the CEO and Chief Creative Officer of the Kaplan Thaler Gr...