Business & Economics - Business Communication - Meetings & Presentations
Remote work is here to stay,so if you can do it well, you're ahead of the game!The remote work revolution has been rapidly accelerated by the COVID-19 pandemic. How to Thrive in the Virtual Workplace shares insights from the remote employee, manager ...
Master the ten simple secrets used by the world's greatest business communicators and transform your career!Based on author Carmine Gallo's career as a Fortune 500 communications coach and Emmy Award-winning television journalist, 10 Simple Secrets o...
Turn your meetings from standard status reports into remarkable conversations!Meetings have become a pain point for millions, wasting time, money, and energy. But in reality, meetings are at the heart of effective organizations. In Make Meetings Matt...
Want to deliver a pitch or presentation that grabs your audience's ever-shrinking attention span? Ditch the colorful slides and catchy language. And follow one simple rule: Convey only what needs to be said, clearly and concisely, in three minu...
THE BESTSELLING AUTHOR OF PITCH ANYTHING IS BACK TO FLIP YOUR ENTIRE APPROACH TO PERSUASION.Is there anything worse than a high-pressure salesperson pushing you to say "yes" (then sign on the dotted line) before you're ready?If there's one lesson Ore...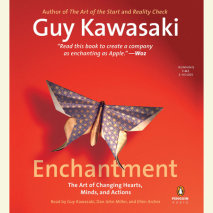 Enchantment, as defined by bestselling business guru Guy Kawasaki, is not about manipulating people. It transforms situations and relationships. It converts hostility into civility and civility into affinity. It changes the skeptics and cynics into t...