Business & Economics - Investments & Securities - Commodities
A fascinating, groundbreaking exposé of how commodity traders in New York and London have destabilized societies all over the world, leaving the most vulnerable at the mercy of hunger, chaos, and war.For Rupert Russell, the Brexit vote was onl...
A Wall Street Journal besteller and a USA Today Best Book of 2020Named Energy Writer of the Year for The New Map by the American Energy Society"A master class on how the world works." —NPRPulitzer Prize-winning author and globa...
**USA Today bestseller and Wall Street Journal business bestseller**They say John Maynard Keynes called gold a "barbarous relic." They say there isn't enough gold to support finance and commerce. They say the gold supply can't increase fa...
A dynamic new creative-renewal program from the woman who has inspired millions to discover and recover their creative souls.In The Prosperous Heart, Julia Cameron presents a ten-week program for using your creative heart and soul to lead you to p...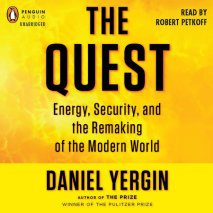 "A sprawling story richly textured with original material, quirky details and amusing anecdotes . . ." —Wall Street Journal"It is a cause for celebration that Yergin has returned with his perspective on a very different landsc...