Business & Economics - Small Business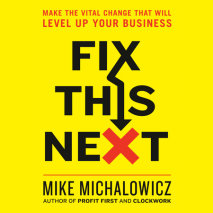 From Mike Michalowicz, the author of PROFIT FIRST, CLOCKWORK, and THE PUMPKIN PLAN, comes the ultimate diagnostic tool for every entrepreneur.The biggest problem entrepreneurs have is that they don't know what their biggest problem is. If you find yo...
 Each year Americans start one million new businesses, nearly 80 percent of which fail within the first five years. Under such pressure to stay alive—let alone grow—it's easy for entrepreneurs to get caught up in a never-ending...
Do you worry that your business will collapse without your constant presence? Are you sacrificing your family, friendships, and freedom to keep your business alive? What if instead your business could run itself, freeing you to do what you love when ...
Rand Fishkin, the founder and former CEO of Moz, reveals how traditional Silicon Valley "wisdom" leads far too many startups astray, with the transparency and humor that his hundreds of thousands of blog readers have come to love.Everyone knows how a...
Forget about building a business—businesses fail and fade into oblivion. Start a revolution instead. James Watt started a rebellion against tasteless mass market beers by founding BrewDog, now one of the world's best-known and fastes...
#1 NEW YORK TIMES BESTSELLERIf you want to build a better future, you must believe in secrets.The great secret of our time is that there are still uncharted frontiers to explore and new inventions to create. In Zero to One, legendary entrepreneur and...