Business & Economics - Industries - Pharmaceutical & Biotechnology
The inside story of a band of entrepreneurial upstarts who made millions selling painkillers—until their scheme unraveled, putting them at the center of a landmark criminal trial. "A fast-paced and maddening account.... Unti...
"An inspiring and informative page-turner." –Walter IsaacsonLonglisted for the FT/McKinsey Business Book of the Year Award The authoritative account of the race to produce the vaccines that are saving us all, from the #1 New York Time...
NATIONAL BOOK CRITICS CIRCLE NOMINEE • A NEW YORK TIMES NOTABLE BOOK OF THE YEAR • NEW YORK TIMES BEST SELLER • A grand, devastating portrait of three generations of the Sackler family, famed for their philanthropy, whose fortune...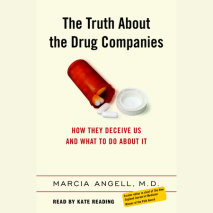 During her two decades at The New England Journal of Medicine, Dr. Marcia Angell had a front-row seat on the appalling spectacle of the pharmaceutical industry. She watched drug companies stray from their original mission of discovering and manufactu...