Business & Economics - E-Commerce
From the bestselling author of The Dark Net comes a book that explains all the dangers of the digital revolution and offers concrete solutions on how we can protect our personal privacy, and democracy itself.The internet was meant to set us free. But...
NEW YORK TIMES BESTSELLER. The unbelievable true story of the man who built a billion-dollar online drug empire from his bedroom—and almost got away with it   In 2011, a twenty-six-year-old libertarian programmer named Ross Ulbricht laun...
"A perfectly executed, exquisitely reported parable of the Internet age and the wild, mad adventure that is start-up culture."—Charles Duhigg Fortune, mania, genius, philanthropy—the bestselling author of Mountains Beyond Moun...
A leading behavioral economist shows how businesses can improve consumer thinking and decision-making on screens. The typical American office worker now spends the majority of his or her waking hours staring at a screen. In the 21st century, every bu...
How did the newspaper, music, and film industries go from raking in big bucks to scooping up digital dimes? Their customers were lured away by the free ride of technology. Now, business journalist Robert Levine shows how they can get back on track. O...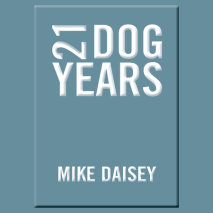 In 1998, when Amazon.com began to recruit employees, they gave temp agencies a simple directive: send us your freaks. Mike Daisey -- slacker, onetime aesthetics major -- fit the bill. His subsequent ascension, over the course of twenty-one dog years,...