Cooking - Regional & Ethnic - American - Southern States
NEW YORK TIMES BESTSELLER • A complete meat and brisket-cooking education from the country's most celebrated pitmaster and owner of the wildly popular Austin restaurant Franklin Barbecue.When Aaron Franklin and his wife, Stacy, opened up a ...
In the first cookbook by a Black pitmaster, James Beard Award–winning chef Rodney Scott celebrates an incredible culinary legacy through his life story, family traditions, and unmatched dedication to his craft."BBQ is such an important pa...
A story about the trials and triumphs of a Black chef from Queens, New York, and a White media entrepreneur from Staten Island who built a relationship and a restaurant in the Deep South, hoping to bridge biases and get people talking about race, gen...
From the beloved, best-selling author of All Over but the Shoutin', a delectable, rollicking food memoir, cookbook, and loving tribute to a region, a vanishing history, a family, and, especially, to his mother.Margaret Bragg does not own a single coo...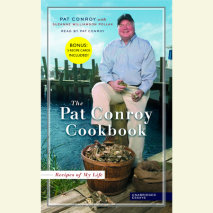 America's favorite storyteller is back—with a memoir of good food and good company from his beloved South and beyond. This audiobook is the story of my life as it relates to the subject of food. It is my autobiography in food and meals and re...
Family and friends are the center of life in the South, and kitchens the center of Southern homes, so there is no better way to celebrate Southern traditions than a book on entertaining. From the heartfelt love in Grandma's dumplings to the sto...
Throughout Maya Angelou's life, from her childhood in Stamps, Arkansas, to her world travels as a bestselling writer, good food has played a central role. Preparing and enjoying homemade meals provides a sense of purpose and calm, accomplishm...
They're wild, beloved, and all-around fabulous, but with the Sweet Potato Queens, there're just never enough good times—or enough good eats. Well, now all fabulous women everywhere can have their own mountains of royal fun and food,...