Cooking - Health & Healing
Activate your weight-loss autopilot—use the power of simple intermittent fasting to lose the pounds and keep them off, from Hollywood trainer and #1 New York Times bestselling author Jorge Cruise. Timing is everything when it comes to losing we...
NATIONAL BESTSELLER • Fight cancer, diabetes, heart disease, weight gain, and even the aging process itself with one simple, scientifically proven plan to reverse disease—as well as prevent and reduce symptoms—from the world-ren...
A noted entrepreneur, food writer, and recipe developer serves up an evocative adventure story abouther quest to find healing, meaning, and a place at the table.   Hunger comes to us in many forms, writes Lia Huber—we long to be sati...
The Ornish Diet has been named the "#1 Best Heart-Healthy Diet" by U.S. News & World Report for seven consecutive years!From the author of the landmark bestseller Dr. Dean Ornish's Program for Reversing Heart Dis...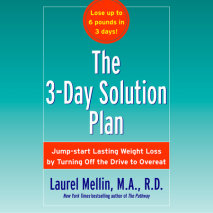 The Solution to Dieting!Almost everyone who wants to lose weight makes a painful discovery: diets don't work. After following the rules and wrestling with the temptations, nearly all dieters regain what they have lost–and then some. What&...