"Engrossing. . . . Gellman [is] a thorough, exacting reporter . . . a marvelous narrator for this particular story, as he nimbly guides us through complex technical arcana and some stubborn ethical questions. . . . Dark Mirror would b...
SOON TO BE AN HBO® DOCUMENTARY FROM AWARD-WINNING DIRECTOR JOHN MAGGIO • "An important—and deeply sobering—new book about cyberwarfare" (Nicholas Kristof, New York Times)The Perfect Weapon is the ...
"A prescient and important book. . . . Fascinating."—The New York Review of Books No single invention of the last half century has changed the way we live now as much as the Internet. Alexander Klimburg was a member of the generatio...
NEW YORK TIMES and WALL STREET JOURNAL BESTSELLER ONE OF THE WASHINGTON POST'S 10 BEST BOOKS OF 2015One of the world's leading authorities on global security, Marc Goodman takes readers deep into the digital underground to expose the alarming w...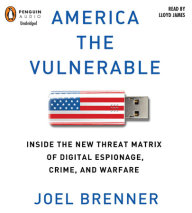 Now available in a new edition entitled GLASS HOUSES: Privacy, Secrecy, and Cyber Insecurity in a Transparent World.A former top-level National Security Agency insider goes behind the headlines to explore America's next great battleground: digital se...