Family & Relationships - Education
World-class pediatric surgeon, social scientist, and best-selling author of Thirty Million Words Dr. Dana Suskind returns with a revelatory new look at the neuroscience of early childhood development—and how it can guide us toward a future in w...
"As a mother of three, this book's practical road map for helping our kids learn independently is invaluable. This should be a must-read for all parents." --Jenna Bush HagerDrawing on extensive experience as classroom teachers and the directors of th...
From an Ivy League dean and a college admissions expert, a guide to help parents support their children as they navigate their way to collegeThe College Conversation is a comprehensive resource for mapping the path through the college application pro...
A blueprint for how parents can stop worrying about their children's future and start helping them prepare for it, from the cofounder and CEO of one of America's most innovative public-school networks"A treasure trove of deeply prac...
The untold story of the root cause of America's education crisis--and the seemingly endless cycle of multigenerational poverty.It was only after years within the education reform movement that Natalie Wexler stumbled across a hidden explanation for o...
An eye-opening look inside pre-K in America and what it will take to give all children the best start in school possible. At the heart of this groundbreaking book are two urgent questions: What do our young children need in the earliest years of sch...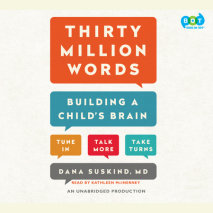 The founder and director of the Thirty Million Words Initiative, Professor Dana Suskind, explains why the most important—and astoundingly simple—thing you can do for your child's future success in life is to to talk to them.What nur...