Family & Relationships - Friendship
"Text Me has the thrills and laughs of a romantic comedy, but with an inverted message: 'There just isn't only one love story in our lives,' Schaefer writes. If you're lucky, friends will be the protagonists in these multiple love stories. It's high ...
This warm, wise exploration of female friendship from the #1 New York Times bestselling author of You Just Don't Understand will help women lean into these powerful relationships.A WASHINGTON POST NOTABLE BOOK Best friend, old friend, good...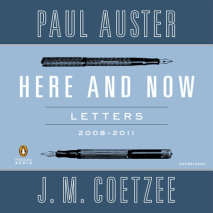 The high-spirited correspondence between New York Times bestselling author Paul Auster and Nobel laureate J. M. CoetzeeAlthough Paul Auster and J. M. Coetzee had been reading each other's books for years, the two writers did not meet until Febr...
When Rachel Bertsche first moves to Chicago, she's thrilled to finally share a zip code, let alone an apartment, with her boyfriend. But shortly after getting married, Bertsche realizes that her new life is missing one thing: friends. Sure, she...
You know the feeling. You meet someone new—at a party or at work—and you just hit it off. There is an instant sense of camaraderie. In a word, you "click." From the bestselling authors of Sway, Click is a fascinating...