Fiction - Thrillers - Domestic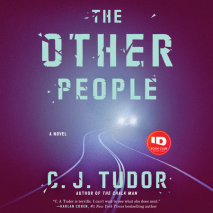 A gripping thriller about a man's quest for the daughter no one else believes is still alive, from the acclaimed author of The Chalk Man and The Hiding Place. "C. J. Tudor is terrific. I can't wait to see what she does next." ...
"Smart, sinister, and utterly engrossing—this debut delivers."—Joshilyn Jackson, New York Times bestselling author of Never Have I EverWhen a woman conceals her sister's death to claim their joint inherita...
A provocative novel of psychological suspense about two women locked in a desperate fight over a child each believes is rightfully hers "Deliciously twisty and seriously dark . . . I couldn't put it down."—Natasha Be...
Two women are watching each other.Phoebe Miller isn't sure when the rusty car started showing up in the cul-de-sac she calls home, or why its driver would be spying on her. What could be interesting about an unhappy housewife who drowns her sorrows i...
She befriended the one woman she was never supposed to meet. Now she's the key suspect in her disappearance. For fans of The Perfect Mother and The Wife Between Us comes a gripping psychological suspense debut about two strangers, one incredible conn...
A dark, thrilling new novel from the best-selling author of Longbourn: a work of riveting psychological suspense that grapples with how to live as a woman in the world--or in the pages of a book--when the stakes are dangerously high.When a young writ...
An impossible-to-put-down domestic thriller about secrets and revenge, told from the perspectives of a husband and wife who are the most perfect, and the most dangerous, match for each other   Rebecca didn't know love was possible until sh...