Games & Activities - Gambling
The incredible true story of the card-counting mathematics professor who taught the world how to beat the dealer and, as the first of the great quantitative investors, ushered in a revolution on Wall Street. A child of the Great Depression, legendary...
The Book That Made Las Vegas Change the RulesOver 1,000,000 Copies in Print Edward O. Thorp is the father of card counting, and in this classic guide he shares the revolutionary point system that has been successfully used by professional a...
An eye-popping and hilarious joyride through the underworld of sports betting Beth Raymer arrived in Las Vegas in 2001, hoping to land a job as a cocktail waitress at one of the big casinos. In the meantime, she lived in a $17-a-night motel with...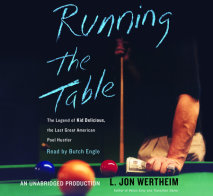 In many sports, the pinnacle is Wheaties-box fame and notoriety. But in the world of pool, notoriety is the last thing a hustler desires. Such is the dilemma that faces Danny Basavich, an affable, generously proportioned Jewish kid from Jersey, who f...