Games & Activities - Gambling
The incredible true story of the card-counting mathematics professor who taught the world how to beat the dealer and, as the first of the great quantitative investors, ushered in a revolution on Wall Street. A child of the Great Depression, legendary...
An eye-popping and hilarious joyride through the underworld of sports betting Beth Raymer arrived in Las Vegas in 2001, hoping to land a job as a cocktail waitress at one of the big casinos. In the meantime, she lived in a $17-a-night motel with...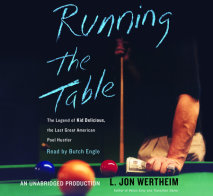 In many sports, the pinnacle is Wheaties-box fame and notoriety. But in the world of pool, notoriety is the last thing a hustler desires. Such is the dilemma that faces Danny Basavich, an affable, generously proportioned Jewish kid from Jersey, who f...