Games & Activities - Video & Mobile
The definitive behind-the-scenes history of the dawn of video games and their rise into a multibillion-dollar business "For industry insiders and game players alike, this book is a must-have."—Mark Turmell, designer for Midway ...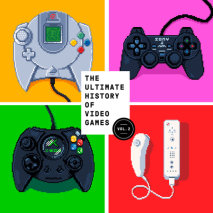 The definitive behind-the-scenes history of video games' explosion into the twenty-first century and the war for industry power"A zippy read through a truly deep research job. You won't want to put this one down."—Eddie ...
UNLOCK YOUR GAME'S NARRATIVE POTENTIAL!With increasingly sophisticated video games being consumed by an enthusiastic and expanding audience, the pressure is on game developers like never before to deliver exciting stories and engaging characters. Wit...
NEW YORK TIMES BESTSELLER • Set in the aftermath of Rogue One: A Star Wars Story, this action-packed prequel to the hotly anticipated videogame Battlefront II introduces the Empire's elite force: Inferno Squad.After the humiliating theft o...
Tom Bissell is a prizewinning writer who published three widely acclaimed books before the age of thirty-four. He is also an obsessive gamer who has spent untold hours in front of his various video game consoles, playing titles such as Far Cry 2, Lef...