Health & Fitness - Naturopathy
"Informative . . . I recommend it to practitioners and patients alike." —Andrew Weil, MD, author of Eight Weeks to Optimum Health and Mind Over MedsInternational bestselling author Dr. Andreas Michalsen uncovers ...
In The Secret Therapy of Trees, Marco Mencagli and Marco Nieri explore the relationship between plants and organisms, and illustrate how to benefit from nature's positive impact on our psychological and physical well-being.Our connection to nature is...
Being healthy is easier, less expensive, and a whole lot more enjoyable than you think.Much of the health advice we receive today tells us that in order to be healthy, we must consume a Spartan diet, exercise with the intensity of an Olympic athlete,...
An engaging guide to the art of forest bathing, inspired by the Japanese practice of shinrin-yoku, for anyone who wants to explore the transformative power of nature in promoting health and happiness.   Forest bathing is the art of spending int...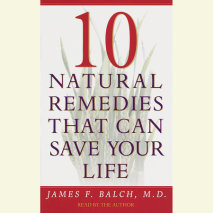 Dr. James F. Balch's book Prescription for Nutritional Healing: A-to-Z Guide to Supplements established him as one of the most trusted authorities in the fields of alternative and homeopathic medicine.  Now, in a groundbreaking new volume t...