Health & Fitness - Menopause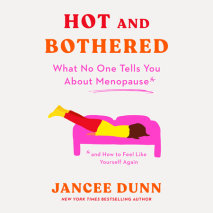 From the New York Times bestselling author of How Not to Hate Your Husband After Kids comes a deeply researched and incredibly entertaining guide to navigating the still-taboo topic of menopause.When Jancee Dunn hit her mid-40s, she was bombarded by ...
A patient-proven eating and lifestyle program to balance nutrition and sustain weight loss—including more than 40 delicious recipes and 6 weeks of meal plans—tailored to women in midlife."I haven't changed my diet or exercise ...
A comprehensive, physiology-based guide to peak performance for active women approaching or experiencing menopause—from the author of Roar, renowned exercise and nutrition scientist Dr. Stacy SimsFor active women, menopause hits hard. Overnight...
Alleviate the symptoms of perimenopause and menopause with simple and safe DIY diffusions, tonics, and tinctures made with essential oils, from "a true innovator and thought leader in the field of women's hormone health" (JJ Vi...
"A sassy, accurate, and enormously helpful romp through the midlife transition known as menopause . . . I highly recommend it to all women who want to embrace all the possibilities offered by this change, including vibrant health...
Minimize the symptoms of perimenopause and menopause naturally through a sustainable, enjoyable eating plan, physical activity, and other beneficial lifestyle habits"My friends and well-respected colleagues have written The Menopause Diet ...